Do you want to get rid of the frizzy and unmanageable hairs? Then keratin treatment does wonder for you. But before choosing this for your hairs here are a few things that you must look at.
What is keratin?
Keratin is a form of a fibrous protein that is an essential part of horns, calluses, hair, nails, and the skin's surface. It is also present in the internal organs. The protein is a protector because of its tougher structure. Keratin is found among the vertebrates. Keratin protein has recently gained popularity because of its significance in managing hair frizz as well as permanent straightening of hair. The protein treatment has tremendous effects on hair when performed accurately. There are several keratin treatments available in the market. Keratin has brought the revolution to the hair industry.
What is a keratin treatment?
Keratin is the main protein which makes up your hair, nails and the surface of the skin. A keratin treatment is used on frizzy, wavy or curly hair for a long-lasting straightening. Certain chemicals are applied to the hair, which is then straightened with the help of any hair straightening tool. The heat from the straightener and the chemicals work together and change your hair's natural bonds, resulting in smoother and straighter hair. There are many keratin-based products out in the market. The results majorly depend on the quality of chemicals your stylist chooses to use.
What does a keratin treatment do?
A keratin treatment is perfect for people who have frizzy or curly hair. Basically, it smoothes out any curls or frizz from hair and gives a silky fresh look. It gets rid of any dullness or dryness in your hair. A keratin treatment takes care of damaged, dull, frizzy or dry hair and give a nice shine along with silky smooth texture. The treatment is chemical-based and gives an end result of straight, shiny hair for a longer time than regular straighteners. It is great for people who have limited time for straightening/blow-dry or are simply lazy.
What is keratin hair smoothing treatment?
You must have heard of a keratin treatment since it has been in the news a lot lately. The treatment is applied on a dry, frizzy hair to get rid of the unwanted dullness. Once the treatment is complete, your hair will shine more and lose any curls or waves. A keratin treatment locks in protein to the damaged parts of your hair. It usually takes up to three hours to complete the procedure. Still, the duration depends on the length, thickness and texture of hair. Longer and thicker hair will need more time. You can enjoy silky smooth hair after a keratin treatment for up to six months give or take.
How to apply keratin complex smoothing treatment?
It is a lengthy procedure, and you will need a fair amount of patience till it finishes. Your stylist will wash your hair before starting the treatment. Next step is to dry hair until they are at least 80 % dry. Now the treatment will be applied to your hair in parts to cover all hair completely. Once applied, there will be some resting time for the formula to absorb into the hair. While the product is still in your hair, using a flatiron, your stylist will straighten all hair using small sections. Another wash is to remove all chemicals out of the hair, followed by a shampoo and a serum. A blow-dry is the last step of this treatment.
keratin treatment for curly hair
Now you all know about the value of hair protein and its role in building hair strands' texture. It is one of the best picks for the curly and coarse hair strand who like more shinny and relax finish. The question that arises in each curly hair girl's mind is that will he or she get the perfect straight finish or not. It all depends upon the brands you are using on the strands, but whatever treatment you pick for the keratin, at least you get the shiny and relaxed look. If you are looking for a way to flyaways and frizz, which might be very natural for fine and curly hair kind. You have to be very careful while doing any relaxing method on the curly strands because it can cause irreversible damage and alter hair patterns.
Before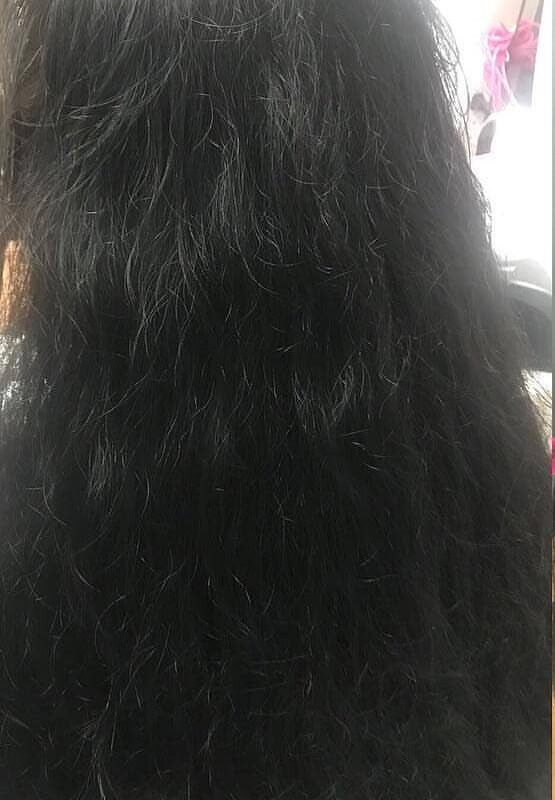 After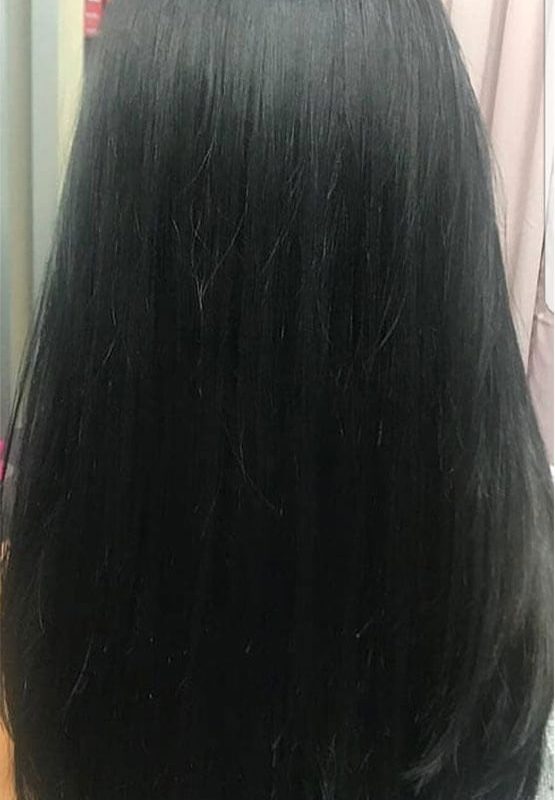 How Does Protein Treatment Work on Curly Hairs?
Now it is time to break the news: your genes hold the center part when you study the curl pattern. So it is not easy to get frizz-free and straight hairs. To make the strand straight, you need to disrupt the curl's way, and for this, you use the method of disturbing the disulfide bond.
You have to disrupt the curl pattern to create straight hair; a process of breaking down the disulfide bonds must be used. So in this relaxing method of treatment, your strand undergoes three steps:
Relaxing: They use alkalis to break hair protein bond
Neutralizing: In this, professionals restore the pH balance of the hair
Conditioning: Apply the right conditioner to the strand of newly non-curly hair strands.
Now you know how scientific your hairs are.
Keratin Treatment for Curly and Hair at Home
If you do not feel comfortable visiting the salon, here are the best and top items. The Forever Smooth has a wide variety of protein treatment choices that you can pick as per your hair kind. But you need to learn how to do it in the right manner to get the perfect results. Here are the steps that have to follow:
Start with washing your hair with the best keratin shampoo to get the component benefits. For straight hair, always go for the twice wash. For curly hair all, you need to add one more extra wash.
First, dry the hairs ( go for a towel dry, so it let the product absorb quickly into the strands)
Coat each hair with the protein treatment, beginning from dry tips to the top.
Stop one inch before you reach the scalp. It is because to prevent the roots.
After that, massage the protein treatment on your hair strands.
Take the comb with a wide-tooth and comb the strands. Now it's time to let this precious protein sit on the hair for at least 30 minutes.
Rinse your hair with look warm water and make sure no items buildup remains on the strands because it can cause dandruff.
Now it's time to blow dry the hairs while combing. Once you get the dry strand, separate them into small parts and lock the keratin using iron-on each section.
Always apply heat on the small section for the right distribution of heat.
Now you need to keep your hair dry for 48 hours and no washing. By doing this, you are giving time to the protein to sleep into the hair locks and do the magic.
Wash your hair after 48 hours. Always use the Forever Smooth Shampoo, conditioner, and Keratin spray between the washes to retina the results.
Before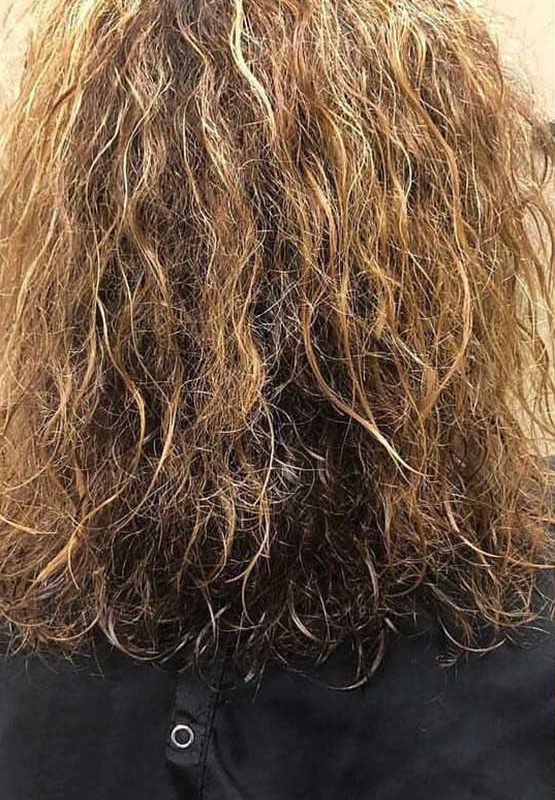 After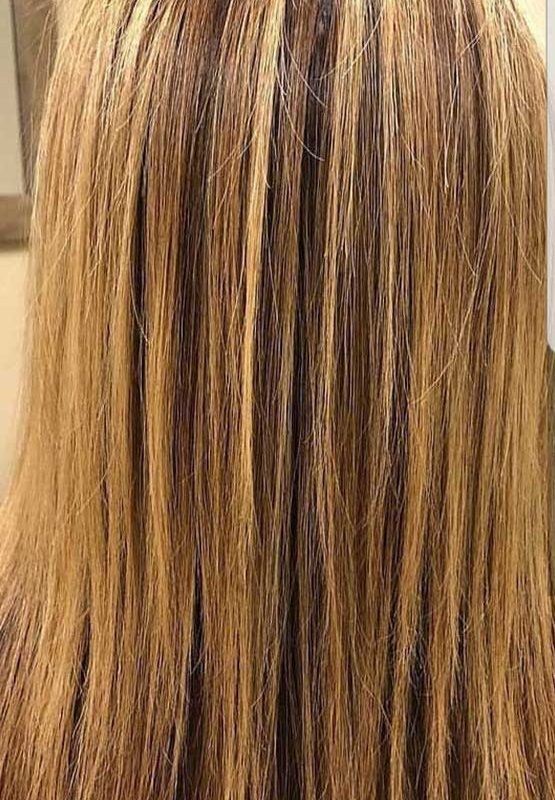 How long does a keratin treatment last on curly hair?
Here comes the million-dollar question that makes most curly heads to look for the answer. How long does a keratin treatment last on curly hair? Indeed when you infuse the hair protein into the strands, it makes hair easy to manage and style. How long you can enjoy this finish and texture. Coirae and curly hairs people are very much concerned about it because of their frizzy strands. Here is the good news if you use the forever smooth keratin shampoo and spray, it can prolong the treatment's effect up to 6 months. It usually lasts up to three to five months. If you are the one who wants more manageable hairs, then get the best protein treatment for your hairs and enjoy a stress-free life for up to months.
What does a keratin treatment do to curly hair?
It works great on all hair types, and you can notice the visible change in coarse and curly hairs. What does it do? On the coarse and curls strands, you can witness the considerable change:
It will smooth out the frizz
Add more shine
Notice more shine than other straight strands
More manageable
Why Curly head Reflect more Shine than Straight head People after Treatment?
On the coarse or wavy hairs, you notice more change than usual to straight strands. It is because curly hair does not reflect the light quickly as compare to straight strands. It is the reason when coarse and curly hairs undergo treatment, it reflects more light and appears glossier and shiner. I tis the reason the result is more noticeable and prominent. Yes here curly head get benefits over straight-head people.
keratin treatment before and after curly hair
What will be the outcome of the curly hair after protein treatment? Before and after the process not always the same. It all relies on the curls level and how much and the type of items your stylish pick. It is best to arrange a meeting with the hairdresser. They will guide you all about the effect you achieve after the procedure.  If you use the right items as per your hair's texture, you will achieve outstanding and fantastic outcomes. Follow the instruct printed on the box and use the right tools.
Before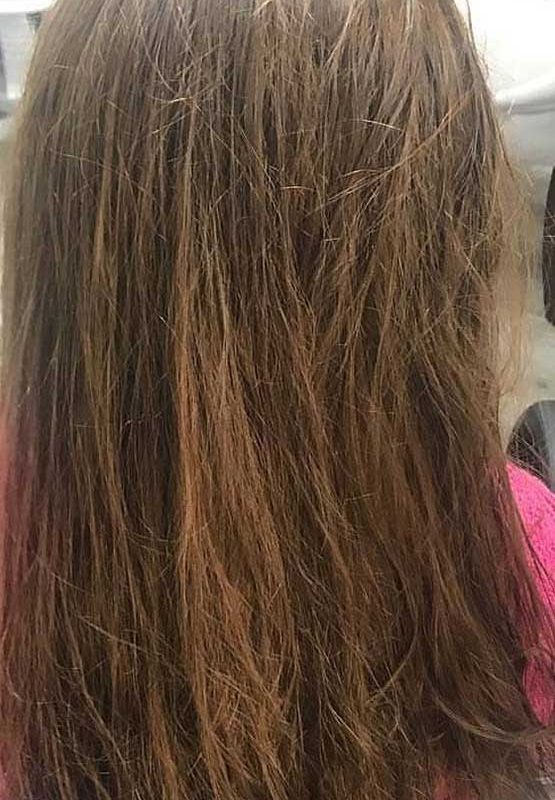 After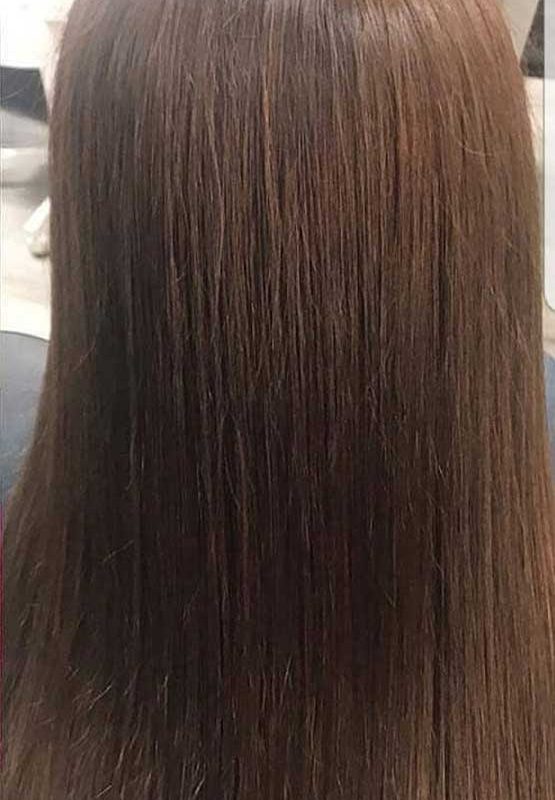 How long does a keratin treatment take?
Does it take a whole day or how much time you need to take for this protein treatment? In the process stylist or hairdresser use heat to seal the protein. For the first wash to style, the entire method takes almost 90 minutes or longer. It all depends upon the
Length of the hair
Texture coarse or fine
Type Curley, straight or wavy
how much is a keratin treatment on Curly Head?
There's is not one fixed amount for the protein treatment because it depends upon the various factors like:
Charges vary from hair salon to hair salon
the texture of the hairs fine or thick
type of the strands curly, wavy, or hair
length of your hairs
Here are the rough ideas that usually charge between $ 240-$500. All factors mentioned above play a vital role in this manner
Why Curly head Reflect more Shine than Straight head People after Treatment?
On the coarse or wavy hairs, you notice more change than usual to straight strands. It is because curly hair does not reflect the light quickly as compare to straight strands. It is the reason when coarse and curly hairs undergo treatment, it reflects more light and appears glossier and shiner. I tis the reason the result is more noticeable and prominent. Yes here curly head get benefits over straight-head people.
What is a keratin treatment for african american hair?
During the methods, the hairdresser will apply the protein on the black hair like another coloring it. The strand of the African American is usually thick and need more time for relaxing than other hairs type. After application hair, the dresser uses flat iron or hair drier to deal the keratin at 45 degrees Fahrenheit.
Keratin treatment for fine hair?
Thin hair is not the right candidate for a keratin treatment. You can check this one off your list if your hair is fine. Basically, keratin fights frizz with the help of chemicals and intense heat from straighteners. Your fine hair will definitely be frizz-free after a permanent straightening session, but chances are that they look lumpy. Whatever volume your hair had because of the frizz, will be gone when you walk out of the salon. Thin hair is already weak, which is why they might not be able to withstand the treatment. Consider taking other hair care treatments to nourish your hair.
How much is a keratin treatment on fine Hairs?
Make sure you have a pocket full of cash when you walk in a salon for a keratin treatment because it is expansive. The price range can vary depending on the length, thickness, texture of hair and of course, the kind of products which your caretaker uses at the salon. Nevertheless, a keratin treatment can cost up to $300 – $800. The results are great no doubt, but we advise you not to go for any cheap products just to cut down the cost as the cost will add up considering the damage those products will cause to your hair.
How long does a keratin treatment last on fine Hairs?
The best bet about such treatments is that they last much longer than the regular hair straitening rituals at home. While a normal straightener can smooth out your hair till the next wash, a keratin-treated hair maintain their silky smooth texture even after you wash them. It can last as long as 6 months. But it really depends on how fast your hair growth is. Some people`s hair grows faster while some suffer from slow growth. So it is only an estimated guess. The new hair which starts growing out will obviously be your natural hair texture.
How to do keratin treatment at home on Slightly wavy or Normal Strands?
If you are trying to avoid salons, to save time, money, or any other reason, there is a simpler way to straighten your hair. You can do it at home. Go to your nearest pharmacy and ask them about the hair straightening kits they have in stock. Chances are that you will find a reasonably priced kit with instructions written on it. Home-based straightening kits are easier to use and save you plenty of time. The formula is simple: you apply the chemicals on your hair for a certain amount of time and wait until you wash them off.
How long does a keratin treatment take on fine hair?
For permanent hair straightening a stylist cleans your hair first then applies keratin products. The process includes straightening out your hair to seal in the chemicals. The whole procedure takes about 90 minutes or more than that. It all depends on the length of your hair. Longer hair means more time.
A keratin hair treatment is a long lengthy process, and you need patience for it. Go to the salon when you have plenty of time and nowhere to go. Taking a book along will help you pass the time during all the waiting before the chemicals kick in.
What is the best keratin treatment in gernal?
Pharmacies and salon shelves are stuffed with keratin treatment kits because of the ever-increasing popularity of such treatments. Out of so many options, it is a little difficult to decide what to put on your hair. It is best to consult a knowledgeable stylist about what products are best suitable for your hair type and according to the market Forerver Smooth have wide range of options to pick form. You can discuss your hair problems with your stylist and let her know exactly what kind of results you are looking for. This will make it easier for her to choose a keratin treatment most suitable for your hair trouble.
What does the keratin smoothing treatment do?
A keratin smoothing treatment is exactly what the name suggests. It smoothes out frizzy and curly hair into straight, silky tresses. Frizz is a common hair problem among many people. It gives a shabby look and is totally not what want to display on our heads. This is where a keratin treatment jumps ion to save the day. You can opt for this treatment if your hair is frizzy and out of control. It will moisturize your hair and lock in any porous hair with keratin protein. The final outcome will be smooth straight and silky hair.
Does keratin make your hair more manageable?
Keratin treatments are famous to claim an improvement in your hair quality and management. Such treatments' basic purpose is to tame frizzy, dull, dry hair and transform them into smooth, shiny tresses. It is a perfect solution for people who need to blow dry their hair often. These permanent hair straightening treatments save you a lot of time, and you can style your hair in no time. Since your hair frizz is out of the picture, you can get ready quicker and look sharp. The permanent straightening treatments [provide long-lasting results to make your life easier.
Things To Know Before Going For Keratin Treatment
1. What are the risks of a keratin treatment?
More and more people are getting hair straightening treatments. Such treatments are excellent for your fashion needs but not so favourable in the long run. Keratin based hair treatments mostly include formaldehyde which is absolutely not suitable for inhaling. According to some researches, formaldehyde can cause cancers. Some keratin treatments use other chemicals instead of formaldehyde, but the results are not as good. Because of the outstanding straightening results of formaldehyde, most brands use it. Many brands try to hide the fact that their products contain this chemical due to the damages it causes. If not carried out properly, these treatments can cause serious damage to your hair.
2. Are there any side effects of a keratin treatment?
The biggest side effect of a keratin treatment is the use of formaldehyde chemical in the products. This chemical is extremely harmful to human health. The cost of the treatments is another downside of it. They are too costly, and not everyone has the buying power to afford them. Any hair which undergoes permanent hair straightening procedures needs special care. The quality and type of water you use matter a lot. This means that swimming is a big No for your treated hair. Of course, the quality of products your stylist uses plays a huge role in reducing the side effects.
3. Does keratin damage your hair?
Like everything else in this world, keratin treatments are not a bulletproof method to handle frizzy hair. It is quite possible that you end up damaging your hair more. There is no need to rush into such decisions because it is your hair at risk. Get to know the treatments and study in detail to make an informed choice before getting a permanent hair straightening treatment. All treatments are not the same, and the same goes for the stylists. Choose wisely before entering a salon. If a keratin straightening procedure is not performed correctly, your hair will suffer.
4. Does keratin ruin your hair?
Keratin treatment may help in straightening the hair. Still, this treatment does not contain keratin only but also other substances that cause damage your hair. Using high heat styling tools can burn and break the hair, causing them to shed. Allergic Telogen Effluvium can sometimes occur after hair treatments, which may be the cause of hair fall. Using too much keratin can make the hair hard and brittle. Keratin treatments contain formaldehyde, a carcinogen. It can also cause skin reactions and other side effects like sore throats, nose bleed, and scratchy eyes.
5. how long to leave keratin treatment in hair
The average time to leave the keratin treatment in the hair is 10 to 30 minutes. But it also depends on the product we are using for the treatment. Keratin treatment should not be applied for longer than 30 minutes. After a specific limit, the hair can no longer absorb the keratin even if left for 1 hour. This will only cause hair damage.
6. Are formaldehyde-free keratin treatments available?
Everything is possible when you set your mind to it. Formaldehyde is the most commonly used chemical in keratin kits. It is because of the satisfactory results it gives. But suppose you are worried about your overall health and also want to maintain your frizzy hair. In that case, you will find many options (formaldehyde-free) in the market. You can do your research and choose whatever best suits your needs. Consulting your stylist is a good idea because they are more informed about brands. Keep in mind that keratin treatments use chemicals. If not formaldehyde, other chemicals will be present in the product.
7. Are formaldehyde-free keratin treatments suitable?
There have been concerns about the harmful effects of formaldehyde. This is why we have keratin kits present in the market with little to no formaldehyde. It is important to note that there is no such thing as a chemical-free keratin treatment. All hair straightening treatments use some chemicals. While formaldehyde-free formulas may be less harmful to your health, the results are not as impressive as formaldehyde ones. You will have straighter hair, but you might not be as happy with the outcome when compared to a formaldehyde keratin treatment. It is safe to say that all good things come at a cost.
8. Does water affect keratin treated hair?
Yes. If your hair went under the iron with a keratin treatment, then you need to take extra care of them. This means protecting them against water is your number one priority—the type of water you use to wash your hair matter a lot. Hard water can wear off your keratin results earlier than the expected time. Remember to wash your hair as little as possible, not more than three times a week. There are special shampoos for keratin-treated hair. Buy yourself one of those, it is not an option but a necessity.
9. For how long you need to keep hair unwashed after keratin treatment?
If you think the long hours you sat on the salon seat, getting your hair filled with keratin products was the most challenging part. You have no clue how difficult the after treatment days are. When the stylist is done with the treatment, she will wash your hair and give you a nice blow-dry. But after that, she will tell you to keep your hair away from water for the next three-four days for best results. Fight through the second day and then wash your hair on the third day for best results.
10. Does Keratin Treatment lead to Hair Loss?
In the protein infusion process, you need to use high heat to perform the functions. It is the heat that leads to hair damage. It is the reason the hair loss and certain go hand in hand. So be aware if you use faulty items and poor techniques it adds to the thinning of hairs and hair shedding.
11. Does Keratin Process Causes White or Grey Hairs?
Whenever you are using patient on the hair strands that is around 5% grays, you need to be careful of the hot tools. It is because it can change your gray hairs to slight yellow. the pale tint does not appeal to pleasing and you have to go for the color services. Treatment on the blond strands will need a little more care.
What are the benefits of getting a keratin treatment?
Keratin treatments have many benefits when it comes to managing your hair. The treatment brings a glossy and healthy look to your otherwise dull and damaged hair. The keratin protein present in the treatments fills in any gaps or holes in dry, frizzy hair, resulting in smooth and straight hair. The permanent hair straightening helps you get ready in time and never be late because of a blow-dry. These hair treatments help you to get rid of split-ends. The results are long-lasting if you take good care of your hair. The keratin treatment before and after pictures, will give you a better idea of the benefits.
How long after keratin treatment to wash the hair?
In answer to this question, you can expect the result of your entire process. After applying protein and ironing, you need to be very careful for 3 to 4 days. So you have to wait for few days to listen to your hairdresser or the instruction printed on the box of treatment. Why wait for 4 to 5 days? It is because it permits the complete penetration of the protein on the hair. Keep your hair strands away from any moisture and let that specific work well on the hair.
How much to tip for keratin treatment?
While you are getting the beautiful gorgeous hair from the extensive hair proton treatment then questions how to thank you for the hairdresser or other involved worker. So it is time to appreciate their effort by offering them some tips. here is the rule of thumb for tips. You must tip almost 20% of the entire cost of the services, not / people. If the hair treatment costs you around $250 to $500 then pay 20% of the net amount and divide it between the staff who work on your hairs.
What care should be taken after keratin treatment?
• Do not wash hair for at least 3 days. Avoid getting your hair wet. Do not swim, sweat, or go under the rain.
• Do not style the hair in any way, as it may cause a dent in the hair.
• Do not use any hair products for days, and use a flatiron if your hair gets twisted.
• Use the blow-dry and flatiron to manage the strand in the right style, which will extend the duration of keratin treatment.
• Do not color your hair right after the treatment wait for 3 weeks at least.
what shampoo should i use after keratin treatment
For the lasting result of keratin treatment, one should use shampoo free of sulfate and sodium. Sulfates are cleansing agents that may extract the keratin out from the hair. As for the sodium, it can open up the cuticles; therefore, pulling out all the moisture and keratin from hair.
You can also use dry shampoos during the extended time between hair washes as recommended by the experts.
Before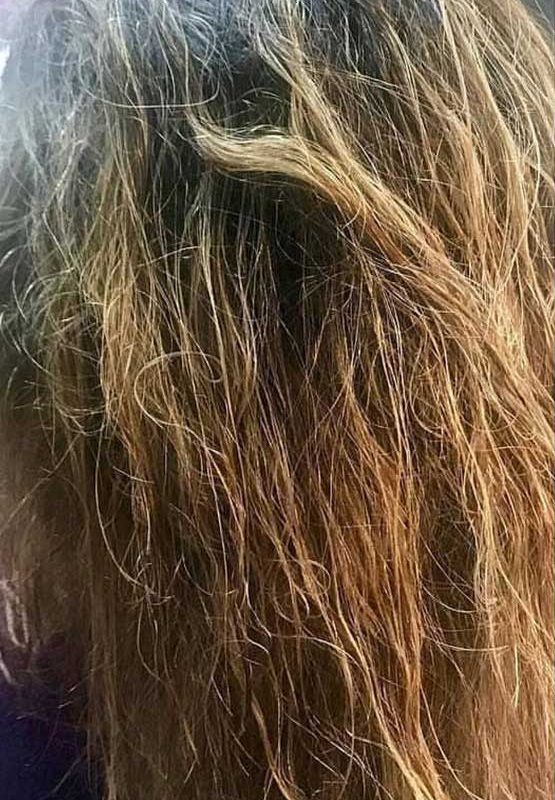 After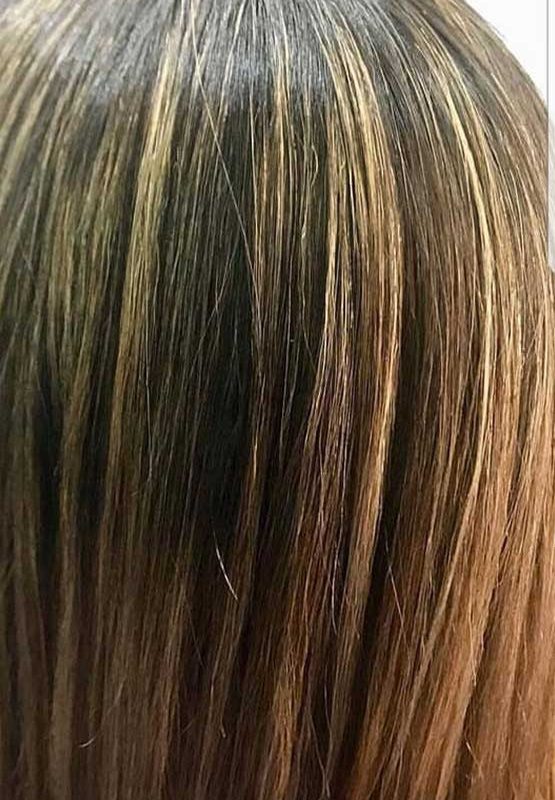 Where to buy keratin treatment?
Also known as Brazilian blow dry, these permanent hair straightening kits are readily available with stylists. Since it's their job to guide you better in choosing the right kind of treatment best suited for your hair type. If you are a day enthusiast, then head over to any pharmacy near you, and you will find keratin kits displayed on the shelves. Even when you do not want to leave the house, buy them online. Most brands have an online presence where you can buy your kit and deliver it to your door. The Forever Smooth is the platform where you can buy many products related to a keratin treatment.
How long after keratin treatment to color hair
Hair color contains two main components: hydrogen peroxide, which dissolves the natural hair color, and ammonia, which helps to inject new color. After the keratin treatment, a keratin layer is deposited, which usually takes 2 weeks to be absorbed completely. So using the hair color in the first 2 weeks is entirely useless as it will just deposit on the hair rather than being immersed in the hair cuticle. So one should wait for 2 weeks to apply any color. It is best to first consult the stylist. Some recommend coloring hair before keratin treatment because the damage caused by the ammonia in color will also be repaired in the keratin treatment.
Before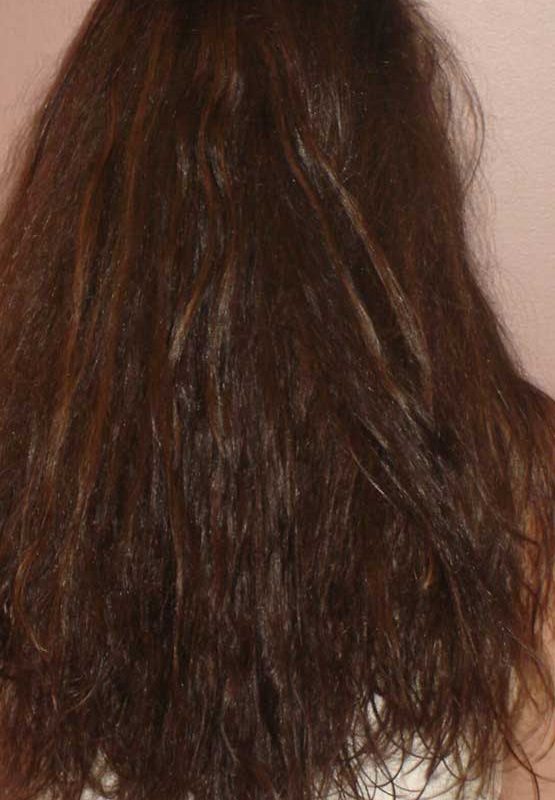 After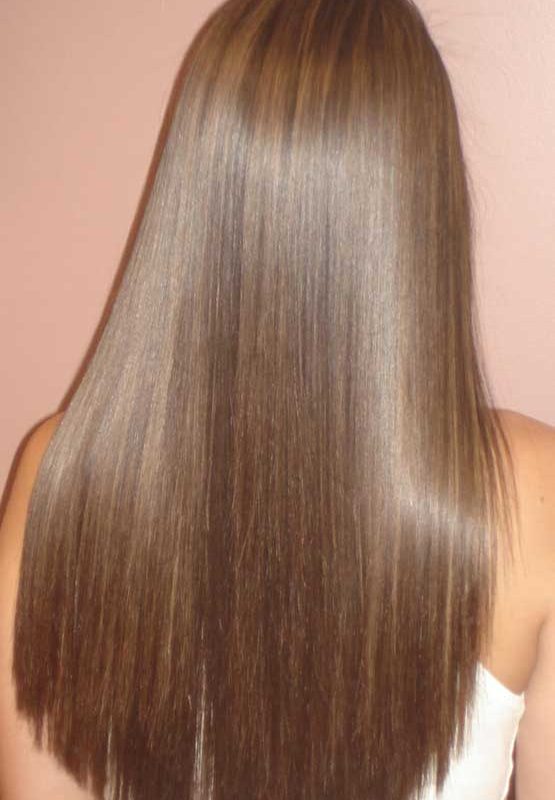 How many times can you do keratin treatment?
Single keratin treatment lasts for about 3-5 months, so it is recommended to have the keratin treatment 2 to 3 times a year. Doing it very frequently can also damage your hair. Using often high heat styling tools can cause hair fall and hair burn. Keratin treatment contains formaldehyde, a carcinogen; being exposed to it often can put the consumers and the applicant at risk. So we should abide by the rules and keep ourselves safe.